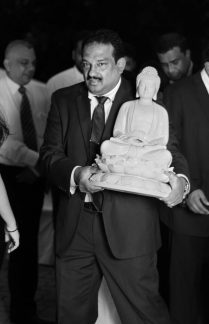 Himal Ariyasena
Having originated in the apparel industry almost four decades ago, & he was able to merge horizontally and venture into other industries. With this risky change under a short time period of time he was able to venture out not only horizontally but vertically in the organizational structure. For instance he was able to progress in the printing machinery industry and where he became one of the pioneer suppliers of Printing Machineries here in Sri Lanka, while facilitating majority of the needs of respective industries.  After becoming successful and reaching the heights in the printing industry he decided to venture out into building construction about two decades ago.
Becoming a pioneer in Sri Lanka was not merely satisfying enough, he wanted to expand his reach globally. He is one of the few Sri Lankans who has his own printing hub in Japan.  He utilizes this facility to expand his business into Asian & South Asian countries. For instance, Bangladesh and India.
CEO & Managing Director Himaco Holdings conglomerate. Executive member of Garment Exporters Association, Sri Lanka Association of Printers, & Print Media Academy.